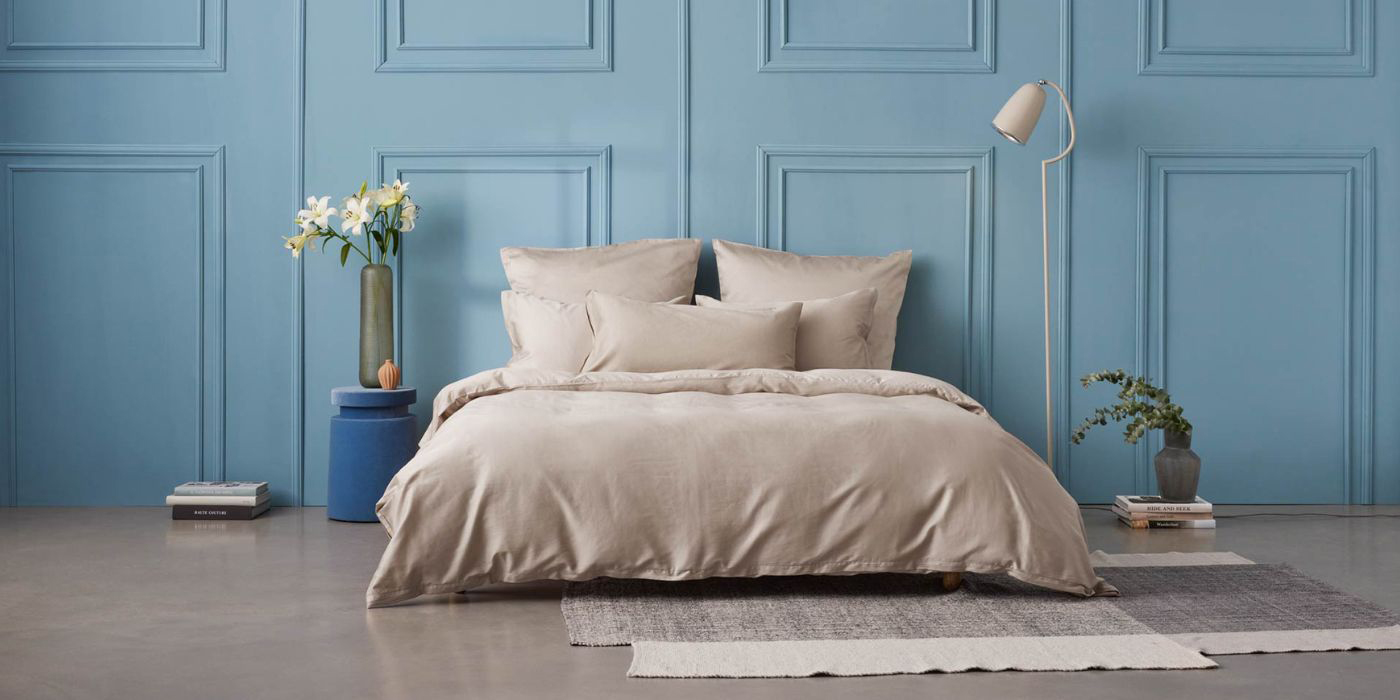 Satin bed linen made from pure cotton - silky soft
Imagine the moment in the day when everything is allowed to fade away, you sink into your pillows, experience the soft feeling of the bed linen on your skin and look forward to a restful sleep. That's exactly how the experience is every evening with our satin bed linen. Discover our selection of cotton satin bed linen in a subtle white that is guaranteed to match your style and interior. The high-quality finish and organic materials ensures that the bed linen becomes softer with every wash.
Satin bed linen offers you a pleasant sleeping climate
Our satin bed linen gives you the perfect sleeping experience all year round, cotton is particularly breathable and has temperature-balancing properties. Royfort Somerton satin bed linen therefore feels refreshingly cool on the skin in summer and creates a warm sleep environment in winter. Thus, you do not need to put your new satin cotton bed linen in the wardrobe when the seasons change, you will feel completely comfortable in Royfort bed linen all year round.
Here are the special features of Royfort satin bed linen
When you choose Royfort bed linen made from a premium cotton satin, you are investing in uncompromising quality. Once you've slept in it, you'll never want to wake up anywhere else. But what are the special qualities that turn a cotton satin into real luxury bed linen?
Let yourself be inspired by the quality of our satin bed linen!
Fairly produced: You can sleep with a perfect conscience in our satin bed linen, because it is made only from the best materials and is produced fairly in GOTS-certified organic quality. Sustainability is important to us. We manufacture the pillowcases and duvet covers in close partnership with a family business in Portugal under ecological and fair production conditions.
Perfect fit: You have certainly experienced it, the bed linen loses its shape after the first wash and no longer fits on the pillows, mattress and blanket. Why? Bed linen tends to shrink. We make the satin bed linen slightly larger, so that it has the perfect fit after the first wash.
Softer and softer: A special feature of our satin bed linen is that it becomes softer and softer with every wash. The bed linen is sure to quickly become your favourite bed linen and withstand frequent washings, but the quality improves and feels softer with every wash.
Experience the finest satin fabric on your skin and opt for air drying after washing, so that the freshness and softness in your new bedding can be properly enjoyed.
Bed linen made of cotton satin: A fabric of outstanding quality
For many people, the term satin suggests a shiny, and silky fabric that reflects light and is often available in intensely bright colours. The material referred to is a polyester satin that is also often used for garments such as blouses or very fine trousers. Our satin bed linen is wonderfully smooth and silky against the skin.

The term "satin", does not indicate what the bed linen looks like, but is an indication of the weave. The typical silky and elegant look of a satin weave is created by the fact that the final threads are only very loosely woven in.
Did you know that satin bed linen can have different qualities? Ideally, like our cotton satin bed linen, it feels soft and smooth against the skin. Royfort's satin bed linen sets are made from 100% natural cotton. We only use single twisted threads of long staple organic cotton, which results in a so-called yarns per square inch of 300.
A special weaving process of the special satin weave creates excellent quality. The cotton threads are woven closer together so that the satin cotton feels really soft and luxurious when processed into bed linen. The material pleasantly hugs the body and also radiates a special visual quality. With our satin bed linen, you create the best conditions for relaxed, restful nights and days that begin with a smile.
If you are looking for satin bed linen made from organic cotton that gives you a luxurious sleeping experience and also visually enhances your bedroom, you will make the right decision with satin bed linen.
Satin bed linen: White or in subtle pastel shades
Do you love your bed linen? White bed linen is particularly elegant, fresh, and matches with any interior. White bed linen is also incredibly popular because it is calm and without gaudy patterns. We therefore offer our Somerton cotton bed linen in pure white, of course. The collection is also available in pastel shades such as soft grey, deep grey and taupe. Design your bedroom just the way you like it as our satin bed linen blends harmoniously into the interior design.
Easy maintenance
In addition, the satin bed linen is low-iron. We recommend that you wash the covers in a wash cycle with 600 to 800 rpm. Ideally, you let the bed linen air dry and can then put it on directly without ironing in most cases.
Try our cuddly soft bed linen and have a good night's sleep.
The feeling of lying down in your new luxurious bed linen for the first time is hard to describe, you simply have to experience it. With our Somerton collection, we offer you bed linen that is lovingly handcrafted and unsurpassed in softness. Other quality features include production from certified organic cotton, high thread density, and valuable design.

Do you also want to experience the Royfort feeling of luxurious satin bed linen without taking any risks? We are convinced that you will be thrilled with our products and therefore give you a special guarantee promise, you can sleep in our bed linen for 90 days without any worries. If you are not satisfied, you can return them to us free of charge and without any problems.
Purchase our cotton satin bed linen directly as a set
A restful night and healthy sleep are the most important prerequisites for starting the day with restored energy. Therefore, it's important to not make any compromises when it comes to your bed linen. Our Prestige Satin bed linen is handmade from the best natural materials. The silky look and harmonious colours will turn your bedroom into a place of well-being. Thanks to the temperature-balancing properties, the satin bed linen cools you down in summer and warms your body on icy nights in winter. Browse through our selection now and order sheets and covers either individually or directly as a set. We look forward to your purchase and are always happy to answer any questions you may have by phone on +49 30 23327430 or via email hello@royfort.co.uk